Sewer Repair In Red Oak, IA
A backed-up or broken sewer line can rapidly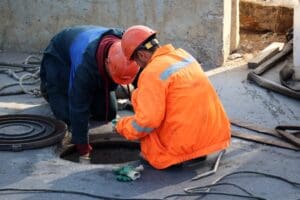 become an absolute disaster as wastewater enters your home. Don't wait a single moment. Call the licensed plumbers at Jones Mechanical, Inc, when you need sewer repair in Red Oak, IA.
Your Home's Sewer Line
Proper sewage disposal is an absolute must when it comes to maintaining the sanitation and safety of your home. The sewer line runs from your home's plumbing system to the municipal system or septic tank. Everything that goes down your drains passes through your sewer line.
The things you put down your drain can become a problem over the years, even if everything seems fine right until your sewer line backs up. Grease, food waste like bones, eggshells, coffee grinds, and personal hygiene products can build up and eventually completely clog your sewer line.
This puts your home at serious risk because none of your fixtures will be able to drain. Eventually, you can see waste back up into your home and create an unlivable environment. Emergency sewer repair can quickly become your only option during this type of disaster.
Without any working drains, your home is also liable to become heavily water damaged. The floors and walls will absorb backed-up wastewater if you have a finished basement, potentially requiring extensive emergency renovations. Proactive sewer maintenance can help prevent these kinds of disasters.
Jones Mechanical, Inc, is your reliable "plumber near me." Use us for all of your sewer repair needs. Whether you need emergency services to mitigate damage and get your home livable again or are looking for preventative maintenance to prevent these kinds of disasters, you can reach out to Jones Mechanical, Inc, today.
Sewer Repairs
Sewer repairs are no laughing matter. They can quickly become a serious problem that can affect your home in numerous ways, so be sure that you're working with real professionals. The licensed plumbers at Jones Mechanical, Inc, can handle any plumbing repairs, and that includes your sewer repairs here in Red Oak, IA.
Have you started to notice any of the following issues?
Waste back-up in the toilet, shower, or other drains

Multiple fixtures draining slowly

Intermittent gurgling noise from toilets

Bathtub back-up when you're washing machine drains

Soft or wet spots appearing on your lawn
These are all signs that something is wrong with your sewer line. The extent of the damage can vary widely. You could have a simple clog or a collapsed line. The experienced plumbers at Jones Mechanical, Inc, can quickly identify the issue and recommend the best option for repair.
If the cause behind the problems you're having is a clog, we have all the necessary tools to resolve the issue quickly. Our motorized snaking can cut right through clogs, and our hydro-jetting will be able to get through just about any obstruction.
If necessary, we can carry out more extensive sewer repairs to deal with issues like collapsed or broken pipes, misalignments, tree root damage, and more. Our expert team has seen it all and can provide you with the sewer repairs you need to keep your home high and dry.
Sewer Line Inspections
Professional sewer line inspections let us verify exactly what the cause of your plumbing problem is. One of the most challenging parts of any plumbing repair is the diagnosis, and we use the latest video inspection technology to handle it quickly and reliably.
This innovative technology uses a long camera probe that passes through a drain in your home into the sewer line. We thread it through the pipes until we reach the blockage. This lets us know if we're dealing with a simple clog, sewer collapse, or tree root damage.
Inspection is a relatively quick plumbing service, so don't hesitate to call. As soon as you believe there may be something wrong with your sewer line, call Jones Mechanical to get to the bottom of it right away.
Sewer Maintenance
There's no need to wait until waste backs up into your home to take care of your sewer line. Regular drain cleanings can significantly reduce the number of major clogs you see and help prevent serious disasters from occurring over time.
A regular, planned inspection can also identify problems before they reach their tipping point. We'll be able to spot tree roots and pipe damage before they lead to complete obstruction. This can let you plan ahead for more extensive repairs rather than having to react during a disaster.
Jones Mechanical, Inc, Sewer Repairs
If you want reliable plumbing repair services here in Red Oak, IA, Jones Mechanical, Inc, is the right choice for you. We back all of our work with our 100% service satisfaction guarantee. As a locally owned and operated business, we understand just how important reliable service is.
When you need sewer repairs or maintenance, call Jones Mechanical, Inc, for fully licensed and insured plumbing services.