Residential Plumbing in Red Oak, IA
Owning a home means taking on a lot of responsibility. You must monitor the electrical system, the HVAC system, the plumbing in the home, and more. If something goes wrong with one or more of these systems, don't fix it on your own. 
Keep a list of trusted professionals to call when you need help around the home. As you make this list, put Jones Mechanical down as your plumbing contractor. Doing so ensures you have a professional on call when your plumbing system isn't functioning as it should. We would love to help you resolve any plumbing issues you are experiencing.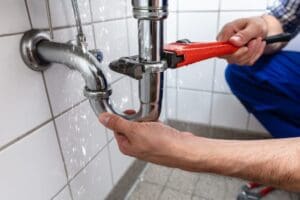 We are Your Residential Plumber in Red Oak, IA, for Plumbing Repairs
Nobody wants to learn they have a plumbing issue. A clogged drain or stopped-up toilet is never fun to deal with. There's no need for you to handle this issue. Call Jones Mechanical and we'll send a residential plumber to the home to handle the residential plumbing repair. 
While you cannot see a large part of this system, your residential plumbing system is extensive. Therefore, it's best to leave repairs to a certified plumber. They can handle any residential plumbing repair, from fixing a toilet or garbage disposal to repairing a major leak in a pipe. 
Sewer line repairs are not something you want to tackle. You are dealing with raw sewage, which is not only nasty but could be harmful to your health. Leaving this to a home plumber is a wise move, as they have the equipment to handle this repair safely and efficiently. 
Our plumber can also handle an outdoor faucet or yard hydrant repair. We ensure our plumbers undergo training to fix your problem in a timely manner. The faucet that drips or the lack of hot water from one faucet that has been driving you crazy for days or weeks will no longer be an issue once our residential plumber visits your home.
Call us at (712) 623-5558 and we will get a residential plumber in Red Oak, IA, out to your home promptly. Plumbing repairs are only one of the many residential plumbing services we offer, so reach out today. 
Plumbing Installations
The plumbing residential system is one of the first things installed when a contractor is building a new home. Before they pour the foundation, the sewer accommodations go in. The work of the residential plumber continues throughout the construction of the residence. 
You may not realize how complex this system is, as so many parts remain hidden from view. However, our plumbers know the intricacies of this system and will ensure they don't overlook a single detail when completing a residential plumbing installation project. 
This project may be something simple, such as installing an aerator on a kitchen sink. It could be more extensive, however, and involve the installation of plumbing in an accessory dwelling unit on the property. Our team is ready to complete any residential plumbing installation, including the installation of a yard hydrant. 
Call us when you need a new plumbing fixture installed, such as a sink in the basement or a tankless water heater for one or more fixtures in the home. We handle new installation projects alongside projects that involve replacing an existing fixture with an upgraded one. Let our plumber know what you need, and they will handle it. 
Call us today at (712) 623-5558  to learn more about the residential plumbing services we offer and how they can benefit you. Once it has been determined what you need, we'll send a residential plumber in Red Oak, IA, out to complete the work. 
Additional Services
We offer additional plumbing residential services that may interest you. For example, our plumbing contractor can install a water treatment system in the home or repair an existing one. Many homeowners find this is an important part of their residential plumbing system. While Red Oak tests the water supply regularly, you may find this water treatment system provides you with peace of mind. 
Once our certified plumber finishes this project, there will be no doubt in your mind that the family has clean water to drink. We also install water softeners, if this product interests you. We can explain the benefits of water filtration and water softeners if you need more information before making this decision. 
Why Choose Jones Mechanical as Your Residential Plumber in Red Oak, IA?
Jones Mechanical brings 20 years of experience to each customer interaction. We put our customers first and provide a variety of ways to help you save money. Ask about our service club and our financing options. We answer questions you have, as you need to know that you will get value for your money. When you choose us as your residential provider, that is never in doubt. 
Call Jones Mechanical when you need help with the plumbing system in your home. Our residential plumber in Red Oak, IA, can be reached at (712) 623-5558.