Lighting Automation in Red Oak, IA
When it comes to commercial lighting, it's essential to prioritize efficiency and customer experience. This is where lighting automation comes into play. Smart lighting systems with innovative lighting automation technology can adapt to your needs effortlessly, allowing you to focus on more critical tasks. You can streamline your operations and simplify your life with automated timers and remote-control technology.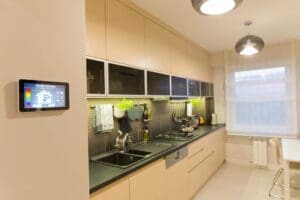 Transform any space into a smart, energy-efficient oasis with Jones Mechanical, Inc.'s lighting automation solutions. Our systems adapt to your needs, saving time, energy, and money. Enhance your environment with convenience, comfort, and style. For businesses, our commercial lighting automation optimizes energy usage and enhances productivity.
Don't settle for outdated lighting control systems; call us at (712) 623-5558 or contact us online to schedule your lighting automation services and discover the endless possibilities of smart lighting.
Why Professional Lighting Automation Is Recommended for Your Building
Lighting automation offers numerous benefits for your building, enhancing functionality and efficiency. Here are some key advantages to consider:
Energy Efficiency
Lighting automation allows for precise control of lighting levels, schedules, and occupancy-based adjustments, resulting in reduced energy consumption, lower utility costs, and a more sustainable building. Smart sensors and timers minimize waste and ensure safety.
Cost Savings
With energy-efficient lighting automation, you can experience substantial cost savings over time. By reducing energy consumption and lowering maintenance expenses, such as bulb replacements, you can free up the budget for other essential investments and achieve long-term financial benefits.
Enhanced Comfort and Productivity
Adjusting lighting levels and colors can improve occupant comfort, enhance visual appeal, and increase productivity. Personalized lighting scenes can be set up for specific tasks or moods, elevating the overall experience. Automated lighting control systems also improve safety and security.
Improved Safety and Security
Automated lighting control systems improve safety and security by activating lights with motion sensors and simulating occupancy with timers. This protects you and deters intruders in the long run.
Easy Control and Management
Lighting automation systems provide centralized control and management capabilities. You can conveniently adjust lighting settings, monitor energy usage, and manage multiple zones or areas within your building through intuitive interfaces or mobile apps. This simplifies operations, reduces manual efforts, and provides real-time insights for efficient building management.
Flexibility and Scalability
Lighting automation is flexible and scalable, quickly adapting to changes without requiring significant infrastructure modifications.
What Happens During Lighting Automation With Jones Mechanical, Inc.
At Jones Mechanical, Inc., we harness the power of advanced technology to deliver exceptional lighting automation solutions. Our commitment to staying at the forefront of industry advancements allows us to provide you with the highest quality service and innovative solutions.
We utilize state-of-the-art smart devices, cutting-edge control systems, and the latest automation technologies to enhance our lighting automation service's quality, efficiency, and safety. These advanced technologies enable seamless integration, precise control, and energy efficiency. By incorporating smart devices and intuitive interfaces, we put the power of controlling your lighting at your fingertips. You can easily adjust lighting levels, create custom lighting scenes, and even automate lighting schedules through user-friendly interfaces or voice commands.
Our utilization of innovative materials and techniques ensures durability and longevity for your lighting automation system. We source high-quality components and employ robust installation practices to create a reliable and long-lasting solution for your space. This reduces downtime and minimizes the need for frequent repairs or replacements.
Would Your Lighting Automation System Need Maintenance?
Like any other system or technology, a lighting automation system may require regular maintenance to ensure optimal performance and longevity. Regular maintenance helps identify and address any issues or potential malfunctions before they escalate into more significant problems. It also allows for software updates, fine-tuning of settings, and cleaning of sensors or fixtures.
During maintenance visits, we can inspect the system, check for any signs of wear or damage, and perform necessary adjustments or repairs. They can also ensure that the system remains current with the latest technology and is compatible with new devices or software updates.
Illuminate Your Space With Cutting-Edge Lighting Automation in Red Oaks, IA
Are you looking to upgrade your lighting system? Jones Mechanical, Inc. in Red Oaks, IA offers smart lighting solutions that provide easy control, energy efficiency, and a cozy ambiance. With our system, you can manage your lights through a single interface or voice commands. Plus, you'll save on energy bills with consistent lighting levels. Our team is dedicated to providing personalized service and reliable installation to ensure your satisfaction with the system.
Upgrade your lighting control system with Jones Mechanical, Inc; (712) 623-5558 or contact us online. Illuminate your space and enhance your lifestyle or business needs with us.