HVAC Contractor in Griswold, Iowa
The HVAC system of your home is critical for comfort and safety. In Griswold, Iowa, summers can be brutal and snow can come in the winter. Having a working HVAC system is crucial for keeping the indoor temperatures as comfortable as possible, even when outdoor temps have risen or dropped sharply. Our Certified HVAC Technician is here to meet your needs and provide a wide range of services for customers living in Griswold and surrounding communities. 
Our AC Repairs Keep You Cool in the Summer
Most homes in Iowa rely on air conditioners to keep them cool and comfortable during the heat spells that can sometimes pop up and lead to temperatures rising near one-hundred degrees. If your AC is not working, there is no reason you have to feel the heat. Allow our team to come out and perform diagnostics on your system, to find the cause of problems and get them repaired promptly. 
Allow Us to Perform Heating Repairs
Griswold winters can sometimes bring uncomfortably cold temperatures. You need a working heater to ensure your family is warm and safe during the brutal winter months. If your old furnace simply is not heating your home as it should, there is help available. We will come out and perform a thorough inspection of your furnace to find the root cause of the problems. We will work to make sure your heater is working properly as soon as possible and will keep you informed throughout the process. 
How Is the Quality of Your Indoor Air?
As a part of the services we provide our customers, Jones Mechanical also provides Indoor Air Quality services. Many homeowners do not realize their homes are polluted and have poor air quality. According to the EPA, most modern homes have an air pollution rate that is two to five times the level of the outdoors. 
When was the last time you checked the air quality in your home? Are you concerned? Schedule an appointment now and allow us to assist you in finding the right solution. There are options to stop pollution and allow for better airflow in your home. Talk to us today!
HVAC Maintenance Is Essential for Proper Energy Efficiency and a Long Lifespan
Is your HVAC system no longer performing as it once did? Are your electricity costs going through the roof? These problems could be related to a lack of maintenance. A properly maintained HVAC system is going to perform at a higher level, offer better efficiency, and will last longer. We offer thorough maintenance packages for all our customers. We can help you save money on heating and cooling your home. 
With our tune-up appointments, you can rest assured your HVAC system will begin running at its best level again. HVAC systems are expensive to replace, and we can help you keep your system running properly for as long as possible. Contact us today to schedule an appointment for maintenance services for your heating or cooling system. 
Thermostats and Zone Control
The thermostat of your HVAC system is crucial for how your heating and cooling systems operate. If it seems your thermostat is ignoring the inputs, it is time to call in the professionals for a check. We repair and replace thermostats and work to make sure they are providing the right service for your home. 
We also help our customers with zone control. In the typical home, the HVAC system keeps all rooms at a single temperature. Do you find some rooms in your home are too cool while others remain too warm? If so, we can help. Allow us to come out and set up the perfect zone control system in your home. With this system, you can control the comfort of each room. 
Why Would You Rely on Anyone Else?
With twenty years of experience taking care of the residents of Griswold and surrounding communities, there is a reason so many homeowners rely on us for their heating and cooling needs. We stand behind our work and strive for 100% customer satisfaction. It is our pleasure to serve your HVAC service needs. Allow us to keep your home comfortable, no matter the season. 
Contact Us For an Appointment
If you are in need of HVAC Services contact us right away. We offer a range of services to help our customers keep their heating and cooling systems operating effectively. We are the professionals' homeowners in Iowa rely on for all their HVAC needs. Contact us today to schedule your appointment. 
Live in Griswold? We're just a short drive away from guaranteed HVAC service.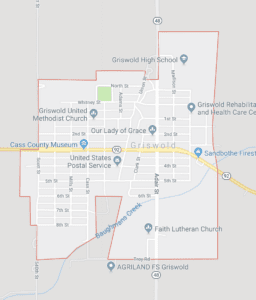 Jones Mechanical, Inc. has been serving Griswold for more than a decade. Our experienced HVAC technicians can install and maintain air conditioners and furnaces from all manufacturers. If you are in the market for a new heating or cooling system, we'll work with you to find the perfect option for your family or business needs. And, we guarantee that we won't keep you waiting for your service appointment.
"We're close to Griswold – so if you need air conditioning or furnace repairs in a hurry, give us a call."
Jones Mechanical, Inc. serves Griswold, IA with the following HVAC services:
Give us a call to schedule service –  (712) 623-5558