Plumbing Services in Lenox, Iowa
We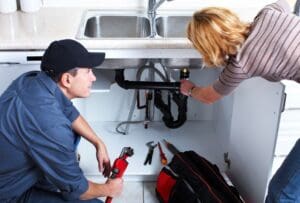 are guessing you are here because your home is currently experiencing a plumbing issue. Whether your water heater is malfunctioning, a toilet is beyond clogged, or a pipe has sprung a leak, you can count on Jones Mechanical for expert plumbing repair solutions. For fast and professional plumbing services, contact our team today.
Repair Services
Plumbing emergencies often can't wait until the next business day for repair. Water damage and a downed appliance or plumbing fixture can bring any home to a standstill. When you need solutions fast, call your local Lenox plumbers for immediate service.
Facing a plumbing issue that's not quite an emergency? Our technicians will come to save the day as soon as possible. Even simple repairs can be tricky when it comes to plumbing. Before ending up disappointed and left with even more damage to fix, call our experts as soon as an issue presents itself.
We are highly experienced and ready to help with any of the following:
Severely clogged drains

Toilet issues

Dripping or running faucets

Leaking pipes

Malfunctioning water heaters

Backed up or broken sewer lines
Delaying repair on any of these problems may make the issue worse or create irreparable damage. To give your plumbing the best chance at effective repair, call us as soon as you spot the plumbing anomaly.
How to Know When Your Sewer Line Has a Problem
Gradual wear and tear and invasive tree roots are the most common reasons for sewer lines to crack, leak, and clog. Flushing any products other than toilet paper down the toilet can cause severe clogs and expedite wear and tear as well. When your sewer line has a problem, you may notice multiple drains backing up in your home at once, a distinctive smell coming from the drains, your toilets clogging often, and sewage backing up into your yard.
Sewer line repair always requires professional tools and skills. The sooner you contact your local plumbers in Lenox, the less of a mess you will have to clean up when it's over.
Water Heater Repair vs Replacement
It is usually obvious when your water heater is malfunctioning. A gush of cold water when you are expecting warm will cause any homeowner concern. Whether your water heater has completely stopped providing you with hot water or it has become spotty and unreliable, our experts are ready to inspect and diagnose whatever is causing your water heater troubles.
Sometimes a simple repair is enough to give your water heater a few more years of life. However, if your unit is already older than 10 years, requires an abnormally expensive repair, is leaking, is rusty, or the pilot light is wearing out, you may be better off with a more reliable and efficient replacement instead. Our professionals can walk you through your options and set you up with a unit that is best for your needs, whether that is another tank or a newer tankless model.
Stubborn Drain Clogs
Do you feel like you are constantly fighting a losing battle with your drains? Do they clog often no matter what you do? Stop using harmful and ineffective store-bought cleaners and take care of your drain problem with professional drain cleaning services from Jones Mechanical. We use specialized equipment that is safe for your plumbing and will provide a long-term solution to your drain clogging issues. Rid your drains of bad smells and stubborn clogs with our professional hydro-jetting services today.
Replacement Services
Plumbing parts and connections come in all different shapes and sizes, and plumbing replacements can become more than just a simple task. After spending hours removing a fixture and finding a replacement part at your local hardware store only to have it not fit is more than a little frustrating. Skip the hours of agony and mess by calling our expert replacement services from the start. We will make sure your new fixture fits and works as it should for your utmost enjoyment.
We are ready to help you upgrade your outdated fixtures, replace broken plumbing, install new piping, and more. If your older steel, iron, or polybutylene piping is starting to corrode and leak, we can repipe your entire home with newer and more durable copper and PVC materials. Stay ahead of devastating disasters by having your piping updated sooner rather than later.
Inspections
Many homeowners don't address their plumbing until there is an issue. What if you could stay ahead of messes and emergency repairs? By having your plumbing regularly inspected by our professionals, you can avoid potential disasters and keep your plumbing working as well as possible.
Our experts will come to inspect your piping, test the water pressure in your system, calibrate sensors, and measure the overall function of your plumbing system for optimal performance. Contact us today for a thorough examination of your plumbing.