Plumbing Services in Essex, Iowa
Safe and effective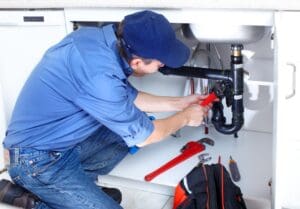 plumbing is crucial for a well-functioning home. When your plumbing is malfunctioning, you can rely on Jones Mechanical Essex plumbers to get your home back in working order. We are ready to assist with your plumbing repair, replacement, and inspection needs. From emergencies to routine maintenance, our experts will get the job done right. Find out more about our services below.
Repair
Sometimes repairs can't wait until the next business day. If you are experiencing a plumbing emergency, contact us for same-day plumbing services. For all other services, one of our qualified technicians will be there as soon as possible. Don't hesitate to give us a call when you are unsure how to fix a problem with your plumbing.
Plumbing issues are often tricky to repair without a professional. Ineffective solutions will leave you disappointed and risky repairs can cause even more damage. Avoid making the issue worse and call us as soon as disaster strikes.
We can help you with:
Clogged drains

Toilet problems

Dripping faucets

Leaky pipes

Pipe bursts

Broken water heaters

Broken sewer lines
Some issues will only get worse if you delay repair. Leaky pipes will cause extensive water damage, water heater units will break down sooner, and sewer line issues will only get messier if left alone. Call us as soon as there is an issue to give your plumbing the best chance at repair.
Sewer Line
If you smell distinctive sewer smells coming from your backyard or inside drains, all of your drains are backing up at once, or your toilets keep clogging, you may have a sewer line problem. Cracks, corrosion, and tree root infestations can cause sewer lines to leak into your yard.
Luckily, today's newest technology allows technicians to repair the line internally rather than having to dig through your yard to patch the hole. The longer these holes are left to grow, the harder they will be to patch from the inside. Call for immediate service to mitigate the mess.
Water Heater
A lack of hot water in any home is a miserable experience. If your water heater is giving you trouble, whether it is unreliable or suddenly stopped working altogether, our experienced technicians can come take a look. Often, a simple repair can be enough to get your water heater working great again.
If your water heater is past the 10-year mark and is requiring excessive repairs or an expensive repair, you may be better off replacing it instead. We can walk you through your options to find the best fit for your household needs, including tankless water heaters and water softeners to support your water heating habits.
Drain Clogs
Drain clogs are a common issue for Essex homes. After months of everything from hair to food particles to soap scum washing down your drain, eventually the stuck material gets so thick that it significantly decreases the flow of water down your drain. Commercial drain cleaners may just create a hole through the gunk or push it further down in the piping system, moving the issue but not solving it.
With professional drain cleaning, specialized equipment leaves your drains free and clear of any residue or bad smells. Your clogged drain won't return any time soon with professional hydro-jetting services from Jones Mechanical.
Toilets
From simple chain and flap repair to complicated flushing and draining issues, our experts are ready to tackle whatever is troubling your toilet. If your toilet is backing up, having problems with filling, or you hear ghost flushing throughout the day, then our professionals can help. Find solutions to your toilet malfunctions with effective repairs and quality replacements from Jones Mechanical.
Replacements
When your faucets and fixtures become outdated and you are looking to update, call the experts for professional installation. Our plumbers in Essex will make sure your new fixtures match your existing plumbing and install them so they work correctly from the beginning. If you are unsure where to begin with your replacements, allow us to help you find solutions that match your style and budget.
When your pipes are too corroded for repair, we can show you the best replacement options for your home.  Prevent further leaks and damage by repiping your whole home. Steel, iron, and polybutylene pipes in older homes may begin to give you issues sooner rather than later. Stay ahead of any nasty surprises by having us replace your pipes with copper or PVC varieties.
Inspections
Plumbing doesn't last forever. You can avoid common issues and emergency replacements by having your plumbing professionally inspected by our crew. We will check the status of your piping, test your water pressure, calibrate sensors, and ensure overall function of your plumbing with our routine equipment inspections. You can make sure your plumbing works for as long as possible and stay ahead of repairs by having it regularly checked by our professionals.