Septic Tank Installation in Red Oak, IA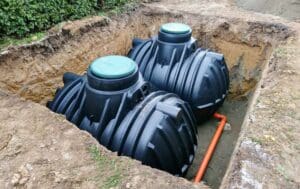 Pay attention to the importance of your home's septic tank in ensuring clean and functional plumbing. As a critical component of your plumbing system, it contributes to safe wastewater disposal and overall home health. To prevent environmental damage, working with an experienced septic tank installation professional who can properly size and locate your septic system is vital. And when saving money in the long run, nothing beats regular maintenance to avoid costly repairs and replacements.
At Jones Mechanical, Inc. in Red Oak, IA, we understand septic tank installation can seem overwhelming, so we're here to help. Our technicians are dedicated to providing trustworthy, simple, and friendly service to make the process as easy and stress-free as possible. Every homeowner deserves the peace of mind that comes with a properly installed septic tank, and we want to provide the highest quality workmanship to make that happen.
If you need septic tank installation in Red Oak, don't look further than Jones Mechanical, Inc. Schedule an appointment by contacting us online or calling (712) 623-5558. 
What Are the Specifics of a Septic Tank?
Septic tanks are the large underground containers that collect wastewater from a household plumbing system. They are vital in homes not connected to a public sewer system. As the solids and liquids are separated due to gravity, bacteria break down the organic waste into manageable components. The remaining liquid, also known as effluent, flows into a drainage field where it is further filtered and treated by the surrounding soil.
The specifics of a septic tank depend on a few key factors, such as:
The location and size of the septic tank

The size of the leach field (septic drain field)

The type of soil in the drainage field
Here, we can help you with the installation process from start to finish. We prioritize professionalism, trustworthiness, and providing informative guidance to ensure that you have a functioning and reliable septic system. Call us today to learn how we can help you with septic tank installation.
How You Can Benefit From Septic Tank Installations
Customizable
Septic tanks can be customized to suit the needs of your household, ensuring that it is the appropriate size for the amount of wastewater generated.
Low Maintenance
Properly installed and maintained septic tanks can last for decades with minimal maintenance required.
Cost-Efficient
Installing a septic tank is often more cost-effective than connecting to a public sewage system. It eliminates monthly sewage bills, as well as maintenance fees.
Increased Property Value
If a septic system is installed correctly, it can increase the value of a property.
How Much Can Septic Tank Installation Cost?
When it comes to installing your septic tank, cost is always a factor. The cost can vary depending on several factors, such as the size of the tank, the condition of the soil, and the specific needs of your property.
When investing in a septic system, it's essential to consider the long-term value it can bring to your property. With proper maintenance and care, a high-quality septic system can last many years, saving you money in the long run. That's why choosing a reputable and experienced septic company that can guide you through the installation process and provide a fair and accurate estimate is crucial. 
We pride ourselves on delivering professional and trustworthy services to our clients. Our technicians will work closely with you to understand your unique needs and ensure your septic system is installed efficiently and effectively.
How Can You Maintain Your Septic Tank Once Installed?
As a homeowner, ensuring your septic tank is properly maintained is crucial. Neglecting routine maintenance for your septic tank can result in costly repairs and possible health hazards. In fact, the frequency at which your septic tank needs to be pumped depends on various factors, including usage and household size. Generally, it is recommended to have your septic tank pumped every three to five years. However, your specific situation may require more frequent pumping. 
Our technicians are dedicated to providing you with top-notch septic tank maintenance services. We understand the importance of keeping your home safe and functional, so we take every measure to ensure your septic tank is operating at its best. With our help, you'll have peace of mind knowing your septic tank is in good hands. Contact us today to schedule your septic tank maintenance appointment, and let us take care of the rest.
Fast, Efficient Septic Tank Installations in Red Oak, IA
At Jones Mechanical, Inc., we pride ourselves in providing reliable septic tank installation services in Red Oak, IA. Our team of professionals takes great care in ensuring that your septic tank is installed correctly and efficiently. We know the importance of a properly functioning septic system and the potential consequences of improper installation. 
That's why we use only the highest-quality materials and equipment to ensure long-lasting results for our customers. We prioritize our customers' satisfaction and are committed to providing an exceptional installation experience every time. 
Trust us to handle your septic tank installation needs thoroughly and professionally. Call us at (712) 623-5558 or contact us online to schedule an appointment in Red Oak.