HVAC Contractor in Malvern, Iowa
It's that time of year once again, for the dogged days of summer to end and to watch the leaves fall in preparation for autumn and winter. There are probably a few things that come to mind more to most homeowners at this time of the year, like heating and air conditioning, and what will happen when that thermostat is turned. It's something everybody swears won't happen, but every year it does: will the heating and air conditioning system work or won't it? This shouldn't be a problem but often is.
Fortunately, if a homeowner is a customer of Jones Mechanical, the normal guessing game of "will it work or won't it?" doesn't apply, as they enjoy comfortable, warm interior air and unparalleled interior air quality once the cold weather of winter begins. And why not? Most customers of Jones Mechanical call upon them for service before the winter months set in to make sure there won't be any surprises when that time comes. And even if an HVAC system is working correctly, isn't it nice to know that you are breathing clean, particle-free air? These are just a couple of the many benefits of a well-functioning HVAC system. 
As nearly every homeowner in Malvern, Iowa, knows, the weather is generally pleasant all year. There are times, however, when things get warm or nippy. That's when it is nice to have a friend like Jones Mechanical on their side. Jones Mechanical has been in business for more than 20 years, providing quality air conditioning and heating services to every job they do. 
Jones Mechanical always takes great care to ensure that all the systems they service are worked on by a highly experienced and certified HVAC technician to make sure that when they leave a home that system is working in top order. All Jones technicians are trained and certified by a national certification company for the HVAC industry, so they know their business like few others, ensuring that customers in Malvern, Iowa, receive the very best service available anywhere.
Training and Experience Unsurpassed
After you call another firm for service on your HVAC system, do you get an uncomfortable feeling, wondering who will show up to work on your heating or air conditioner? When you call Jones Mechanical, a homeowner won't get that feeling because after the first service calls you to receive, you will have the assurance that the person who shows up at your door is the very best qualified to work for you.
Each technician Jones Mechanical employs has excellence as their watchword as they work to provide customers with the finest HVAC services available anywhere, not just in Malvern, Iowa. Everyone at Jones Mechanical likes to think that every one of their customers is a friend who they are working for. This is why everyone at Jones Mechanical participates in the community, not just in the business world.
Serving Malvern, Iowa, and All the Surrounding Areas
Having a furnace and air conditioning system is almost a requirement for any home or business in and around Malvern. That's because as nice as the weather is here, there are times when things get warm or nippy. As far as the upcoming winter months are concerned, temperatures are likely to drop into the 30s, and even lower, for several months during the winter. Fortunate for homeowners in Malvern and the surrounding areas, Jones Mechanical has provided essential HVAC services that are unparalleled in the area. Not only that but if you ask your neighbors, the chances are good that they are customers of Jones Mechanical too.
Jones Mechanical service technicians are trained to work on virtually any HVAC system that a homeowner might have. This will go a long way to preventing breakdowns in the middle of winter when a heater is needed worse. Fortunately, when a technician is called, most of the things they are called on to repair are simple, easy to fix issues, but whatever it is they find, rest assured that our technicians know what they are doing and how to fix virtually anything that might be wrong.
Whether a homeowner requires quality air conditioning or heating services, installation, or repair, Jones Mechanical should be at the top of the list to contact. It doesn't matter if you have a problem with your air conditioner or heater now or are looking for someone to call in the future if things go bad, Jones Mechanical is there to serve you and your neighbors.
Live in Malvern? We're just a short trip away for guaranteed HVAC service.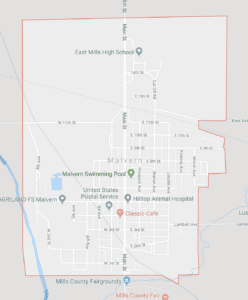 Jones Mechanical, Inc. has been serving Malvern for more than a decade. Our experienced HVAC technicians can install and maintain air conditioners and furnaces from all manufacturers. If you are in the market for a new heating or cooling system, we'll work with you to find the perfect option for your family or business needs. And, we guarantee that we won't keep you waiting for your service appointment.
"We're close to Malvern – so if you need air conditioning or furnace repairs in a hurry, give us a call."
Jones Mechanical, Inc. serves Malvern, IA with the following HVAC services:
Give us a call to schedule service –  (712) 623-5558