AC Repair in Red Oak, Iowa
Every building in Iowa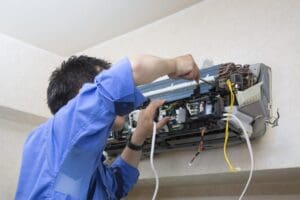 needs an efficient cooling system to maintain comfortable indoor temperatures, including your home. But because air conditioners are used so frequently, they can occasionally be in need of repair. At Jones Mechanical, we offer a variety of quality HVAC services, including air conditioning repair.
Air Conditioning Repair Services at Jones Mechanical: 
If your AC is not running as it does normally or it is not as effective as it once was, we offer a number of helpful services to repair your air conditioner.
The following are just a few of the services that we offer. 
Comprehensive Inspections
With air conditioners, it can be easy to know that something is wrong, but it's not always clear why. Our technicians provide our neighbors in Iowa with careful, comprehensive inspections. They do this to determine the root of the problem. Fixing one part of a unit may not fix the root cause of an issue or issues and often leads to a need for future repairs. Comprehensive system inspections help you save money and ensure that no unnecessary repairs are made.
In many cases, these inspections find that repairing an existing system is the best option. Even if major issues exist, our technicians will consider the total cost of repairs before informing you of the potential need for a new air conditioner. Best of all, their inspection will help keep you informed on your system and its life as time goes on.
The Skills and Knowledge for Any HVAC System
Across Iowa, there are a variety of AC systems in use. At Jones Mechanical, our HVAC technicians have the skills and knowledge to work with and repair any of them. We also ensure that we have the parts commonly needed for most repairs in stock. This way our techs can take care of most issues in one visit.
We understand how uncomfortable a home can be without a properly functioning air conditioning system. If a part does need to be ordered, our team will do everything we can to ensure it is delivered and in your system as quickly as possible. 
Ability to Do Major Repairs
Unfortunately, with older air conditioning systems there comes a time when minor repairs will not cut it. In these cases, our technicians are prepped and ready to do major air conditioning repairs to your existing system.
Depending on how much needs to be repaired and the cost of that repair, we may suggest upgrading the system to save you more money in the long run. Even from the beginning, many older systems are not nearly as efficient as newer ones. Oftentimes this means the cost of operating them and repairing them will outweigh the cost of a new system.
New System Installations 
New technology allows homeowners to more efficiently cool and heat their homes. This increased efficiency can lower your energy bill while reducing your carbon footprint. While these new systems may seem similar to older AC units, they are manufactured in a way that makes them entirely more efficient.
In some cases, our technicians may recommend a new system setup. If so, this will largely be in consideration of the cost of repairs and the longevity of your current system. The choice is always yours. But, a new system can save you money and more efficiently cool your home year round. 
Reasons to Choose Jones Mechanical
At Jones Mechanical, we are trusted HVAC experts with years of experience serving our neighbors in Iowa. 
If you've been searching, "HVAC contractor near me," consider the following reasons Jones Mechanical is different from the competition and why you should choose our qualified professionals for your air conditioning repair needs.
On-Time, Prepared Technicians 
Our trucks are stocked with all the tools, equipment, and parts from all major makes and models of AC systems. Because of this, our technicians will show up on time and ready to get your air conditioner back to work.
Certified Technicians
Our technicians are trained, certified, and hardworking individuals. They can not only fix whatever issues they find with your system but help extend the life of your equipment.
We Treat Your Home Like Our Own
Our technicians are respectful, communicative, and clever members of your communities. They make sure that when they leave your home it is always in a better condition than when they arrived – never worse.
Value and Quality
At Jones Mechanical, we use the best parts from the best HVAC companies. Our repairs will fix what is wrong with your system with competitive prices and quality service.
Contact Us for a Quote for Service Today! 
Issues with air conditioners can be frustrating. But getting your home back to normal is one call away. Our HVAC technicians can provide quick air conditioning repair, so you and your family can be cool and comfortable again.
For more information on AC services from Jones Mechanical, contact us today!