Plumbing Services in Braddyville, Iowa
Plumbing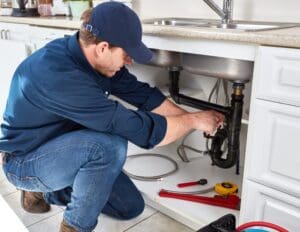 problems can be difficult to ignore and tricky to fix without help from a professional. Although the concept of plumbing seems simple enough, there are a variety of pipes, fasteners, and tools needed for almost any plumbing job. When your plumbing isn't working the way it should, you can rely on Jones Mechanical plumbing services to get the job done right.
Our Braddyville plumbers can assist you with a range of plumbing repairs, inspections, and replacements. Whether you have an emergency on your hands or are in need of routine maintenance, our qualified team of experts is ready to help. Learn more about our areas of expertise below.
Clogged Drains
Before rushing out to grab a bottle of drain cleaning solution, first, understand the type of clog you have and how hydro-jetting works.  Clogs in a single drain may be due to a buildup of hair, soap residue, and other particles. As this material globs together, it will slow the flow of water through your drains.
A store-bought cleaner may not help you rid your drains of these clogs, only push it further down into your drain. Or it will poke a hole through the middle of the globe, but not provide a long-term solution for your clogging issue. The best way to handle drain clogs is to contact plumbers in Braddyville for a professional drain cleaning. Through the process of hydro-jetting, your drains will become completely clear of drain-clogging gunk, making it less likely for the issue to return any time soon. If multiple drains are clogging at once, you may have a more serious issue with your sewer line (see below).
Malfunctioning Toilets
Beyond the typically broken chain or worn-out flap, a toilet can have a variety of issues requiring the services of a professional plumber. More complicated problems include constant running, ghost flushing, clogs, and imbalanced refills. A trained expert can quickly diagnose your toilet malfunction and offer effective solutions for repair or replacement.
Sewage Line Issues
When your sewer line has an issue, you may be able to tell just by the stench coming from your backyard or drains. Other signs include toilets constantly backing up and multiple drains clogging at once. Before the backup in your yard gets any worse, call us to come to mitigate the mess.
If caught soon enough, your sewer line may qualify for internal repair instead of having to dig all over your yard to repair the break. Even issues such as tree root damage can be fixed from the inside. Call the experts as soon as possible if you suspect a sewer line break.
Drips, Leaks, and Bursts
Faucet leaks can be a tricky issue to fix on your own. It seems simple enough at first, but after multiple hours and trips to the hardware store with no progress, you may eventually throw in the towel. Professionals are well-versed in drips and leaks and can usually repair your leak in no time.
Pipe bursts are a little more serious and can cause a lot more damage in a shorter time frame. If you are dealing with a pipe burst, call us for emergency plumbing repair. You may have to shut off your water to stop the water flow from a burst pipe, which can render your plumbing useless until it is fixed. The sooner you call us for repair, the sooner we can have your system back up and running again.
Prevent drips, leaks, and bursts by upgrading your piping today. If your home is older and the pipes have never been inspected, now is the time to call a professional for a thorough examination. Whether you want to replace a small section of damage or replace all of your old cast iron, galvanized steel, or polybutylene pipes for newer copper or PVC pipes, our professionals can show you your options along with a cost estimate for repiping services.
Water Heaters
When your water heater starts acting unusual, call a professional right away for inspection and repair. Loud knocking or banging noises may indicate a need for a flush, and a sudden loss of hot water may require repair to get it working again. Even though water heater issues can seem complicated, most can be easily repaired without having to replace the entire unit. Water heaters that are nearing the 10-year mark, however, may require replacement sooner rather than later.
Our professionals will identify the issue and recommend the best course of action. When it is time to upgrade your water heater, we can show you the latest high-efficiency models, as well as tankless systems and water softeners to best support the hot water needs of your household.
New Hardware Installations
Replacing the faucets and fixtures in your home? Rely on our professional experts to properly secure these pieces to your existing plumbing. Not all fixtures will match your system. Avoid aggravating updates by using a plumbing service to expertly install all of your new faucets and fixtures the right way, including touchless and other modern devices.