AC Installation In Red Oak Iowa
A functional air conditioning system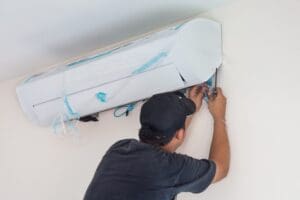 is an important part of any property. It can transform a space in minutes, making it more comfortable for everyone inside.
At Jones Mechanical, we know the value of a nice, cool home. That's why air conditioning installation is just one of the many services that we offer to our neighbors in Red Oak, Elliot, New Market, and the surrounding communities in Iowa. 
AC Installation 
When you're purchasing a new AC unit or equipment, you need a trustworthy, experienced technician on your side. Improper air conditioning installation will prevent a new system from running as efficiently as possible. This can lead to breakdowns and expensive repairs later on.
At Jones Mechanical, our technicians know what it takes to get the job done right. With our experience, we will have your new AC system up and running quickly and as efficiently as possible.  
A Registered Trane Dealer 
At Jones Mechanical, we offer all of the leading brands of air conditioning equipment to our customers in Iowa. Along with being a trusted HVAC contractor in the local community, we are also a Trane-registered dealer. This allows us to offer the full range of Trane products for local residents.
How to Know When It's Time for a New AC System
Many homeowners hesitate when it comes to replacing their AC system. They typically assume that it will be better (or cheaper) to make repairs, instead of investing into something new. But sometimes, an air conditioning installation is a much better and more financially responsible decision.
These are just a few of the ways that you can tell it might be time for a new AC unit.  
An Aging System 
Most modern air conditioners last about 10 to 15 years with proper maintenance. As AC systems age, they break down and become less efficient. If your air conditioner is a decade old, installing a new unit is almost always the best decision. 
Frequent Repairs
While doing repairs to an air conditioner here and there might seem like no big deal, these costs always add up over time. If your unit frequently breaks down or suffers from major complications, having a new air conditioning unit installed is often the better choice.  
Increasing Energy Costs
As they age, air conditioners lose their efficiency. Running older, less efficient AC systems can add hundreds of dollars to your utilities bill. But replacing an old system can save money and help to keep your home cool for years to come.  
Inconsistency in Temperature
It is definitely time to replace an AC unit if there are inconsistencies in the temperature within your home. If your thermostat tells you it is 77 degrees inside, but an independent thermometer tells you it is actually 87 degrees, it may be time for a new air conditioner.
This also applies when you experience inconsistent cooling throughout your house. Having a mixture of warm spots and cool spots is usually a sign that it is time for a new AC unit.  
Strange Sounds
If you notice strange sounds coming from your AC unit or from the ductwork, it can be a sign that your air conditioner is running improperly or inefficiently. If this is the case, your air conditioner may need to be replaced. 
The Benefits of an Air Conditioning Installation with Jones Mechanical
Living with an old, inefficient air conditioner can be a nightmare. While AC replacement can be costly, the benefits make it absolutely worth the expense.
The benefits of installing a new air conditioning unit include:
Increased efficiency 

A cheaper cost to run the unit

More consistent, comfortable temperatures 

Less noise while running 

Better air quality 

A potential increase in property value
Though many do not realize it, a new AC installation can lead to better, more comfortable living.  
Financing is Available
At Jones Mechanical, we offer financing options for air conditioning installation through GreenSky. They offer flexible payment plans and interest rates. Once approved, we can promptly schedule installation.
Preparing for AC Installation
When you turn to the team at Jones Mechanical for your air conditioning installation, we make the process easy. After an initial assessment to determine the correct, most efficient system for your home, our technicians will remove your old AC unit and install the new one. You can expect courteous, on-time service, as well as an abundance of information about your new air conditioner and how it will work for you.  
Contact Us for a Quote Today
The idea of AC installation can be intimidating. But replacing an old unit or installing one for the first time can be the best way to improve your home and your quality of life. If your system is exhibiting any signs of inefficiency or underperforming, a new air conditioner could be just what you need.
For more information or to receive a quote for AC installation or repair, contact the team at Jones Mechanical today!