Plumbing Services in Emerson, Iowa
Is your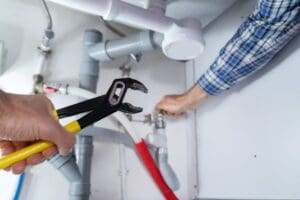 home currently experiencing a plumbing problem? We are guessing yes, otherwise you wouldn't be looking for plumbers in Emerson. Whether you can't seem to get your toilet unclogged, your water heater is dying, or a leaky pipe has you puzzled, we are the right people for the job. When you need fast and reliable plumbing services, you can count on Jones Mechanical.
Repair Services
You may not have the luxury of waiting until the next business day for repair when an issue manifests in your plumbing. We know just how affected a home can be over a downed appliance or malfunctioning plumbing fixture. Your local Emerson plumbers at Jones Mechanical are ready to provide emergency plumbing services no matter the time of day.
For all other plumbing needs, our technicians will respond as soon as possible to help you get your home back up and running again. When it comes to plumbing, there's no such thing as simple. Even a quick replacement can turn into a complication and take hours to fix without professional assistance. Let our trained and experienced technicians solve your plumbing woes fast so you can put the issue behind you without suffering through further disappointment and frustration.
We are ready to help with any of the following plumbing-related problems:
Toilet clogs and malfunctions

Drain clogs

Dripping and running faucets

Leaky pipes

Water heater malfunctions

Sewer line issues
Delaying repairs on a plumbing issue will only exacerbate the problem and may eventually require more extensive repair or replacement. Help minimize the damage by calling our professionals at the first sign of disaster.
Signs Your Sewer Line Has a Problem
The most common reasons for a sewer line problem are flushing products other than toilet paper down the toilet, general wear and tear on the line, and invasive tree roots that breach the line. These can all cause clogs and other issues for your sewer line. When cracks and clogs develop, you will know by the unmistakable smell coming through your drains, sewage backup into your yard, and the odd occurrence of multiple drains backing up at once in your home.
Sewer line repair is not a DIY job. Professional plumbers have the right tools and skillset to properly repair the line. Call us right away for plumbing repair if you suspect a sewage line issue.
Water Heater Repairs and Replacements
An unreliable water heater can cause you some uncomfortable showers and make it nearly impossible to complete your household chores. When yours is malfunctioning, our experts can come to inspect, diagnose, and offer solutions to get your home back in working order.
Sometimes a simple repair or a tune-up can help your water heater last a few years longer. Other times, a total replacement is necessary for more efficient and reliable water heating. How can you tell when your water heater needs replacement rather than repair? Look for the following signs:
Unit is older than 10 years.

Rust forming on unit.

Unit is leaking.

Pilot light is malfunctioning.

Unit requires an abnormally expensive repair.
Our professionals can set you up with a new tank or tankless unit in no time. We will help you choose the best type of water heater for your unique needs and budget. Don't go one more day without a reliable water heater in your home. Call us today for full service on your water heater.
Persistent Drain Clogs
Are you constantly having to unclog your slow drains? Those store-bought drain solutions may be causing more damage than you realize and may not even address the clog itself. When you have finally had enough with your slow drains, call Jones Mechanical for safe and effective drain cleaning services. Our hydro-jetting technique clears residue from your pipes, blasts clogs apart, and leaves your drains with a long-term clearing solution.
Replacement Services
Plumbing fixtures and parts come in a variety of shapes and sizes. Without expert knowledge, it can take a while to figure out a proper replacement for your plumbing project. You can skip the hours wasted at the hardware store and messy replacement process by calling our professionals for quick and high-quality replacement services. Whether you want to upgrade your outdated faucets or need to replace a section of piping in your home, our trained experts are ready to leave you satisfied with any work completed.
Inspection Services
Plumbing can be out of sight out of mind until something goes wrong. Instead of waiting for disaster to strike, you can stay ahead of potential problems and ensure a functional plumbing system with professional inspection services from Jones Mechanical.
We will inspect old piping and let you know when an upgrade from steel, iron, or polybutylene pipes to copper or PVC materials is necessary. We will also test water pressure, calibrate sensors, and measure the overall function of your plumbing to immediately address any problem areas. Enjoy an efficient and well-functioning plumbing system for years to come with assistance from our team.