HVAC Repair
Ensure that your loved ones aren't sweltering in summer and shivering in winter. Jones Mechanical has just what you need to keep the people you care about healthy and happy with our HVAC repair services. 
Maintaining a comfortable temperature is more than a luxury. Summer nights make it hard to sleep. When it's cold, it's easier to catch viruses like influenza. Therefore, it's safe to say that having an HVAC unit provides more than just comfort. Jones Mechanical will take charge of all your furnace and air conditioner repairs.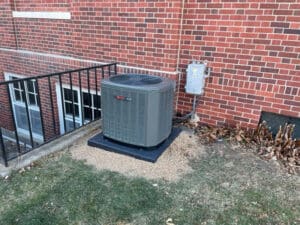 HVAC Replacement:
Installing an HVAC unit requires a specialist with years of experience. If you are interested in an HVAC installation, contact Jones Mechanical! If your HVAC system is totally out of order, we can provide you with a suitable HVAC replacement.
Fill out our service form or give us a call at (712) 623-5558 to schedule an appointment with our skilled technicians.
Furnaces
Older furnaces need repairs more often. If you are repairing your furnace too often, it is likely costing you a fortune. It may be time for a furnace replacement. Jones Mechanical has a team of professionals that will discuss the best furnace installation options for your family's needs. We want you and your family to be warm and cozy this winter.
AC Units
If your AC unit is too old and just can't be repaired, it may be time for an AC replacement. Contact Jones Mechanical for a recommended AC replacement for your home. We will install a new AC unit at an affordable price. AC shouldn't only be for the super-wealthy. Everyone deserves to be cool this summer.
Heat Pumps
Heat pump technology goes unnoticed by many homeowners and businesses. This HVAC system can power your home with both heating and cooling. 
Heat pumps run refrigerant through a compression cycle to transfer heat from inside your home to outside. However, the difference between a heat pump and a conventional AC is that this cycle can be reversed. Your heat pump will take heat from outside and move it into your home. Even if the temperatures outside are low, the heat pump will still rise to the challenge of warming your whole house. 
One system for all your heating and cooling needs. This sounds like the perfect HVAC solution; is it the right HVAC for your home? Many factors determine whether a heat pump installation is the right choice for your home. The size and construction of your home, your current HVAC system, and other aspects must be considered. 
The experts at Jones Mechanical can let you know what your options are for your next HVAC system.
HVAC Repair
One of the unfortunate facts in life is that things break. Parts get worn out and need replacing. HVAC units work especially hard and eventually take a toll. This is not a design flaw but a consequence of the processes taking place in your HVAC unit. However, this is not something to despair over. Jones Mechanical is the best HVAC company, and we are here to take care of your AC and furnace repairs!
HVAC Repair for Furnaces 
If you notice an increase in electricity usage or unusual sounds from your furnace, contact us. With our prompt response time, you can have your furnace back in no time!
Furnace tune-ups may seem unimportant if your furnace is in working order; however, it's an important part of HVAC maintenance. This should be done just before winter starts to ensure that your furnace is clean when you need it most. We will also inspect the components and offer a furnace repair if necessary. 
HVAC Repair for Heat Pumps 
If the outside of your heat pump is freezing up or leaking, contact Jones Mechanical, and our team will take care of heat pump repairs, so you can enjoy the HVAC unit you deserve. Heat pumps may need repairs every now and then to keep them in optimal condition. 
HVAC Repair for AC Units
Allow one of our experts to determine the cause of the malfunction with an inspection and provide a solution so you can get back to staying cool. Jones Mechanical offers the best AC repair in Red Oak. 
Like a furnace, an AC unit will also need tune-ups to clean dust and mold that may accumulate on the filters when it's not being used. We also inspect the AC components that may get worn out easily and upgrade them as needed. 
HVAC Repair is Easier Than Ever with Jones Mechanical
Now that you have seen our wide array of cooling and heating services, we hope to hear from you soon. Don't let a broken AC unit ruin your summer, and embrace winter with a fantastic furnace that will make you want to curl up with a book all day.
To speak to one of our skilled technicians, call us at (712) 623-5558.