HVAC Contractor in Villisca, Iowa
We're proud to be Villisca's preferred provider of heating, ventilation, and air conditioning services. From repairing and maintaining residential heating and cooling equipment to installing efficient, new systems, locals count on us for the prompt, professional services they need. We depend on referrals and repeat business, and we'd like you to become our next satisfied customer. Call or click today to schedule an appointment.
AC Repair
Though the systems we install are designed for years of hassle-free operation, sometimes, things don't work as they should. If your HVAC unit isn't blowing as cold as you'd like it to, call us. A certified, licensed technician will arrive quickly, providing a fast, accurate diagnosis of your system's problems. If a repair will resolve the problem, we'll do the job right away. Our vehicles are fully stocked, which means we can do most repairs the same day we do the estimate.
HVAC Installation
Repairs are sometimes enough to keep a system running, but when a unit has reached the end of its useful life, replacement is the only real option. Choosing a new HVAC system is a complex process, simply because so many variables must be considered. Our heating and cooling experts will visit your residence or business to assess your heating and cooling needs. We'll consider your budget, preferences, and other factors when helping you choose a system that brings constant indoor comfort.
Air Conditioning Maintenance
Proper maintenance will help to prolong the lifespan of any air conditioning system. The Department of Energy says that it's possible to increase a system's efficiency by up to 15% with simple maintenance tasks such as regular air filter changes. Manufacturer warranties require yearly maintenance to remain in effect, and we offer various maintenance plans to simplify the process. Click or call today to find out how we can help you stay comfortable all year.
Contact Us for Service You Can Rely On
Our business is built on the belief that every customer should be treated as a family member. We live in the communities we serve, and we're honored to be Villisca's one-stop-shop for HVAC service and maintenance. Whether you're in need of emergency repairs or seasonal maintenance, we hope you'll call us first.
Heating Repairs, Maintenance, and Installation
When we come to your home or business to assess a heating issue, we will quickly get to the root of the problem and offer fast, reliable solutions. If a quick fix will get the job done, you can count on us. However, if a new system is a right option, we'll recommend one that suits your budget and your comfort needs.
Air Quality Improvement So You Can Breathe Easier
Since the early 1970s, Villisca, Iowa homes have been built for energy conservation; they keep hot air out during the summer, and they prevent cold air from entering in winter. While these building methods save energy, they also lead to a phenomenon known as "sick building syndrome", where stagnant, contaminated air is locked in.
Several factors affect the quality of the air you breathe. According to the EPA, indoor allergens and contaminants often trigger serious respiratory issues. Other well-known entities have expressed similar concerns about the health risks of contaminated indoor air.
If you want a healthier and more comfortable home, increasing the quality of your indoor air is a good start. We offer a range of services to improve your family's health and well-being. A certified HVAC technician can convert existing units into whole-house air treatment systems, and we can install filters that remove the smallest airborne particles. Call us today to learn how we can keep your Villisca home cleaner.
Contact Us Today for a Job Done Right
Though Iowa's climate is mostly temperate, it can get very hot during the summer and frigid during the winter. We are here to help local families stay comfortable throughout the seasons with our air quality and HVAC Services. When you need yearly maintenance or quick repairs, call us right away.
We are honored to offer the Villisca area's most efficient and reliable heating and cooling services. Every one of our team members is insured, licensed, and uniquely qualified, and every tech goes through continuing education, so they stay current with the HVAC industry's most recent advances. We want our customers to be satisfied, so we stand behind our labor and parts with a guarantee. Call or click today to schedule an inspection or to request information on our services and products. It's our job to serve!
Live in Villisca? We're just a short drive away for guaranteed HVAC service.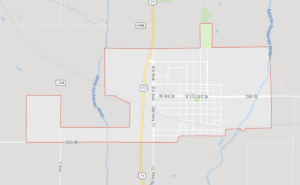 Jones Mechanical, Inc. has been serving Villisca for more than a decade. Our experienced HVAC technicians can install and maintain air conditioners and furnaces from all manufacturers. If you are in the market for a new heating or cooling system, we'll work with you to find the perfect option for your family or business needs. And, we guarantee that we won't keep you waiting for your service appointment.
"We're close to Villisca – so if you need air conditioning or furnace repairs in a hurry, give us a call."
Jones Mechanical, Inc. serves Villisca, IA with the following HVAC services:
Give us a call to schedule service –  (712) 623-5558